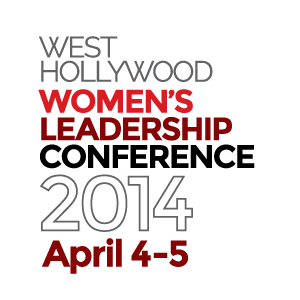 The West Hollywood Women's Leadership Conference is a boutique conference. The accessible sizeof the conference and flexibility of the programming gives attendees the chance to create their own schedule and interact with the conference's main speakers, panelists and workshop leaders. This gives you the opportunity to NETWORK, SOCIALIZE and MAKE IT YOUR OWN!
Use Discount Code: FriendofWLC to Get $10.00 Off Your Ticket! 
Saturday Conference (April 5, 2015): Leadership Panels & Workshops!
An exciting day-long event geared towards women featuring dynamic speakers, informative panels, expert- led trainings, an exhibit area, continental breakfast and a keynote luncheon. Our 2014 Conference workshops and panels will include: Women in Tech – The Future is Her(e)!; "Baby Boomers & Beyond – The Next Chapter"; Pay Equity and Negotiation Training; Advancing Women Now: Harnessing the Power of Diversity and Inclusion; Take Action! Anti-Human Trafficking Training; What in Your Career Toolkit? – Skills, Strategies and Tips for Advancing Your Career Success; Building Your Community: The Intersection of Technology and Social Action; How to Get Appointed to a Board or Commission;Organizing, Planning and Getting Things Done, and Women & Entrepreneurship!

Our exclusive 2014 Keynote Leadership Luncheon panel will feature an innovative and in-depth discussion around Women in the Arts & Media and will feature Patt Morrison, LA Times Columnist and Pulitzer Prize Winner; Charmaine Jefferson, Executive Director of the California African American Museum; Jane Espenson, Writer and Producer of hit shows such asBuffy the Vampire Slayer, Once Upon a Time, and the acclaimed online series Husbands; and Brad Bell, Writer, Actor, and Producer of the acclaimed online series Husbands!